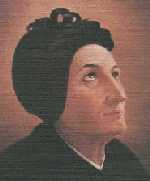 MAGDALEN OF CANOSSA

M

agdalen of Canossa was born in 1774 in Verona, Italy, of the ancient noble house of the Marquises of Canossa. It was one of her ancestors, Mathilda of Canossa, who in the Middle Ages gave protection in her castle to Pope Gregory Vll against the unjust claims of the Emperor Henry lV of Germany. She led him to surrender to the authority of the Pope and to recognise the rights of the Church.

Bright, intelligent, loving, Magdalen from her very early age knew suffering: the almost sudden death of her father when she was barely 5 years old, to be followed two years later by the departure of her own mother who left the palace to marry again – 5 small orphan children were left behind under the care of an old uncle.

Tutors were appointed to teach the children, and Magdalen fell under the tyranny of a governess who from the start took a great dislike to the lively open Magdalen. Under this lady the little girl had to pass through 8 long years of persecution. When at last the lady left the house, Magladen broke down in a long series of illnesses that brought her on the verge of the grave. But she had to live, because God had a great plan for her.

At 17, she was a charming young lady with great prospects of earthly happiness in front of her, but suffering had schooled her for greater visions. She saw her sisters, one by one getting married to the nobility of Verona, but more and more she felt that marriage was not her way. In prayer she searched to find out God's will. Slowly, step by step, she was given the vision: the poor, the needy, the suffering around her were crying aloud for help, and Magdalen decided to go to them. She opened her heart to receive them, to teach them just the 3 basic Rs to enable them to secure a decent work, but above all she strove to anchor them in faith and trust in the loving care of the Heavenly Father who specially loves His poor children in distress and comes to their aid in answer to prayer. The patients in the hospital were also the object of her loving concern.

At the age of 32, Magdalen was at last free to leave the direction of the Canossa palace and to give herself totally to God in the servise of the poor. Friends joined her and the Institution of the Daughters of Charity was officially started in 1808. Other foundations followed till the holy death of Magdalen in 1835 when she was 61 years old. She has gone a long way …

Magdalen of Canossa was declared BLESSED in December 1941 by Pope Puis Xll and proclaimed SAINT in October 1988 by Pope John Paul ll.

[ School History ]

[ School Badge ]

[ School Song ]

[ Principal's Message]

[ PIBG Message ]

[ M.Provincial Message ]

[ Staff ]

[ Activities ]

[ School Plan ]

[ Lend a helping hand ]